November 30, 2021
Posted by:

Wentworth

Category:

Vehicle Maintenance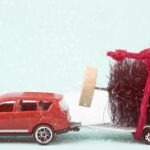 This year is shaping up to be a cold, cold holiday season across the United States. If you are planning a long drive to visit family or friends this season, make sure to schedule an oil change before you go. Follow our holiday driving safety tips for more ways to make this year's holiday season safe and hassle-free.
Avoid Holiday Driving Hazards
The holidays often bring extra stress into our busy lives. We need to find more time in our day to shop for gifts, bake goodies, decorate the house and yard, and clean out the spare room for guests. Many families travel to see friends and relatives, and this year seems to be no exception. If you plan to do holiday driving this winter, this handy list will help keep you safe on the road.
Plan your trip and print out directions (if your phone loses reception).

Slow down.

Studies

show an increase in traffic accidents during inclement winter weather.

Avoid distractions – Pull over to answer your phone or respond to text messages.

Stow luggage securely, especially if it is on the roof rack. Loose luggage can shift dangerously if you need to stop suddenly.

Keep an

emergency kit

in your car.
Vehicle Safety Tips
Winter weather can be challenging on your car, so make sure it is in tip-top shape before leaving on your trip. You can do these vehicle safety tips yourself if you have the time and inclination. Or you can bring your car into your trusted auto shop for a winter tune-up.
Check the battery

Inspect tires for excessive wear and inflate to the correct air pressure (include the spare)

Swap out All-Weather tires for Winter tires if you have them, or get snow chains/cables

Top off low fluids

Replace worn or cracked wiper blades

Get an oil change
Oil Change: How Often Should It Be Done?
Many factors impact the quality of your vehicle's motor oil. The age of your car is one of the biggest things to consider when determining the time intervals between oil changes. In addition, the vehicle's make/model and how often you drive should also be considered. Suppose you regularly drive short trips with frequent stops or in heavy traffic. In that case, auto experts recommend having an oil change and maintenance check every 3 months/3,000 miles.
Most modern vehicles that use synthetic oils should schedule an oil change and maintenance check every 5,000 – 8,000 miles. If you are unsure how often to schedule an oil change service, check your owner's manual for the manufacturer's recommendations. A qualified service technician can also help you choose the proper oil change schedule for your needs.
Holiday Driving Services in San Diego, CA 
At Wentworth Automotive, we believe your safety depends on the mechanical condition of your vehicle. That's why we make it our #1 priority to provide you with exceptional service and the highest quality parts installed by ASE-certified technicians. We carry a variety of motor oils, including synthetic formulas, for all vehicle types and sizes. We guarantee you'll be satisfied with your oil change at Wentworth Automotive in San Diego.
Make A Reservation
Call Wentworth Automotive at (858) 541-1044 or visit us online to make your reservation. Our friendly service technicians will change your vehicle's oil and inspect your oil filter for cleanliness and performance, changing it if necessary.