May 30, 2022
Posted by:

Wentworth

Categories:

Brakes, Vehicle Maintenance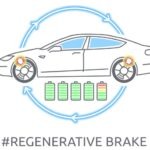 If you have been following our blog series, this will complete our journey into Automotive Brakes. Part 4 will focus on how the regenerative braking system works and which vehicles use it (here's a hint: Hybrids & EVs). If you currently have issues with your regenerative brakes, read the helpful tips below to diagnose issues with rusty brake pads, rotors, and seized calipers. And finally, we will cover routine regenerative braking maintenance, repairs, and factory-recommended brake fluid intervals.
What Are Regenerative Brakes?
The concept of regenerative braking is not a new idea. Several patents and exhibitions featured regenerative braking throughout Europe and the US in the late 1890s and early 1900s. The American Motor Car Company (AMC) created an electrical energy regeneration brake in 1967. Today, electric trains, buses, delivery trucks, automobiles, and even elevators use various forms of regenerative braking. Regenerative braking systems are highly sustainable methods of energy conversion. Most hybrid and all-electric vehicles (EVs) use a form of regenerative braking to enhance their efficiency. 
How Do Regenerative Brakes Work?
The regenerative braking system in your Hybrid or Electric Vehicle uses the kinetic or heat energy generated from the mechanical operations of slowing or stopping to recharge the vehicle's battery. While you drive, power circulates from the battery to the motor, which provides the energy necessary to turn the wheels, creating motion.
When you stop accelerating (including coasting & braking), the process reverses. The electric motor then runs backward. Instead of consuming energy to provide momentum, the kinetic energy starts producing electricity like a generator and slows the vehicle down. The power also flows backward from the motor to the battery, recharging it. This back and forth flow of energy constantly happens as you accelerate, coast, and brake, allowing the vehicle to operate more economically. 
Combination Friction Braking & RBS
Many hybrids and all-electric vehicles use friction brakes and a regenerative braking system. Depending on the vehicle's configuration, drivers may be able to decide which braking system to use, or sensors may control it automatically. In a hybrid automobile, regenerative brakes only provide power to the electric motor portion of the drivetrain through the vehicle's battery. The internal combustion engine does not gain any additional power from regenerative braking.
Regenerative Brakes System Components
Different auto manufacturers may use different methods and components in their regenerative braking systems. Most hybrids and EVs include standard braking components and regenerative specific parts.
Electronic Switches & Sensors
For more information on traditional braking systems, check out our previous blogs on drum brakes and disk brakes.
Diagnose Common RBS Issues
While regenerative braking is excellent at conserving energy and lessening wear and tear on traditional brake components, there is a downside. Metal and rubber parts are still subject to rust, corrosion, and other environmental factors, even when rarely used. If your brakes are noisy or stop inconsistently (or not at all), then make sure to bring your vehicle in for service. 
Degraded Brake Fluid

: Brake fluid continuously absorbs moisture from the air. Hence, most car manufacturers recommend a brake fluid change every two years.
Rusty Brake Pads & Rotors

: Since regenerative braking does most of the work slowing down your vehicle, the traditional brake components can become rusty from infrequent use. Regular inspections and maintenance are still important to prevent noisy and faulty brakes.
Seized Calipers

: Excessive rust and corrosion can cause the calipers to seize or stop working. Make sure to have the calipers inspected during routine automotive services. Remove rust build-up and lubricate them well with a high-viscosity silicone-based lubricant.
Routine RBS Maintenance Service
Check your owner's dual for the factory recommended service intervals for your hybrid or EV's regenerative braking system. There may be a longer interval for service on RBS compared to traditional disk or drum brakes, but they are not 'maintenance-free.' Be diligent with your routine maintenance, and schedule service immediately if you notice a change in the braking quality of your vehicle.
RBS Maintenance & Repairs in San Diego
In business since 1998, Wentworth Automotive is a family-run auto repair shop in San Diego, CA. All our service technicians are ASE Certified & Master Mechanics. We only use high-quality replacement auto parts in all our brake repairs. Your safety depends on the mechanical condition of your vehicle. We work hard to provide quality regenerative braking service at an affordable price, backed by our automotive warranty. 
Schedule A Regenerative Brakes Service
For regenerative braking service, maintenance & repair, trust Wentworth Automotive with your electric or hybrid vehicle. To learn more about our brake repair services, don't hesitate to contact us by phone at (858) 541-1044 or visit our website to make a reservation today.
Complete Automotive Brakes Blog Series
Automotive Brakes | History & Overview: Part 1
Automotive Brakes | Drum Brakes & Repair: Part 2